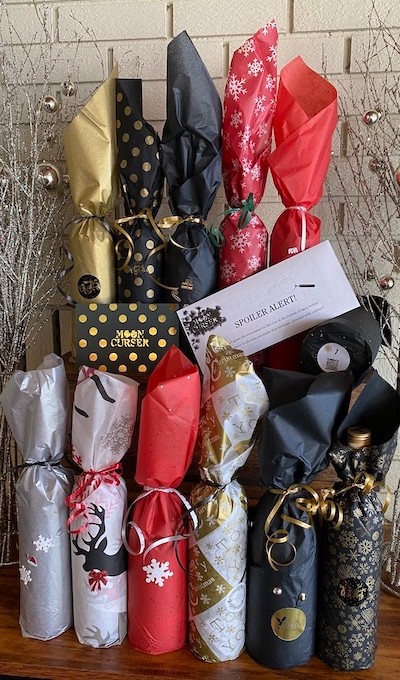 Moon Curser Wine Advent Calendar
The Moon Curser Wine Advent Calendar vanished awfully quick the last couple of years and we encourage you to stake your claim to one soon, if you are so inclined.
Each Moon Curser Wine Advent Calendar contains 12 mystery wines, all beautifully hand wrapped by our elves. The wines include a carefully selected assortment of current releases (including some that are sold out and no longer available for sale individually) alongside a selection of library wines from our cellar. There are three red library wines included in the calendar, and four sparkling or white wines. We have probably said too much...!
You can start counting down the nights left until Christmas from Dec 13th onwards, until Christmas Eve. Each wine is individually wrapped and numbered, with cryptic clues as to the character of the wine provided at the bottom of each bottle. Need to peek and risk joining Santa's bad list? We understand - look for the envelope inside your box that reveals and explains the clues. Wondering what wines to chill in the fridge before you are ready to unwrap the bottle? Look for a snowflake on the bottom of each bottle.
Wine tech sheets available here.
Our Club Members get priority access (after we send the email Nov 14th); please login to purchase.
If stock remains, it will become available to general public on Nov 17th - please join our newsletter or follow us on social media to find out.
*Sorry no substitutions.