News
...here are a few reports and unconfirmed rumours from various sources. Some credible, others,... well.
---

"1. Pop! Five must-have B.C. bubbles
Because nothing brings the happy like a bottle of bubbly.
...
Moon Curser Moonlit Frizzante 2019
I'm such a fan of Osoyoos's Moon Curser Vineyards; they grow grape varieties that almost no one else does and they make such wonderful wine with 'em! This is their first sparkling and it's a winner straight out of the gate. Super foamy with bags of lemon, almond and baked apples. It's the perfect day drinker! Sold out at the winery, see if you can track it down at a wine store cos it's fab!"
To view full article click here

Interview with Beata & Chris Tolley – Owners of Moon Curser starts at approximately ~30:15
To listen to this episode click here.
---
"Moon Curser – Beata.Chris Tolley Founders. Chris is Winemaker. (Osoyoos Bench)
In 2003 both Beata and Chris completed a Post Graduate Degree in Viticulture and Oenology at Lincoln University is Christchurch NZ.
In 2004 Beata and Chris started small and well under the radar after their move from Calgary. Chris a software designer, Beata a Chartered Accountant.
The Moon Curser name pays tribute to the Gold Smuggling history of Osoyoos which is right up against the USA Border.
Unlike almost anyone else in the Okanagan, they decided right from the beginning to grow, bottle, and sell premium wines from old World grapes.
Tannat, Dolcetto, and Touriga Nacional. Then they added Syrah, Malbec, Petit Verdot, Cabernet Sauvignon, Carmenere, Tempranillo, Arneis, Roussanne/Marsanne, Viognier.
Then they added AWARDS. The latest is the greatest.
Moon Curser was recognized as #1 Best Performing Small Winery at the 2019 WineAlign National Wine Awards of Canada.
The award perhaps explains why so many of their wines are Sold Out. Beta and Chris will let us know what's left to order.
They have a great wine club and Beata will explain why club membership would make a great gift.
This is a truly great small winery with a big heart.
www.mooncurser.com"


Our recipe this shipment is a real treat: you can view it below or if you'd like to print a copy you can find a PDF here
It's a recipe for Plum Clafoutis from Moon Curser's feature in the absolutely wonderful new cookbook from the Okanagan's own award winning author, Jennifer Schell, The BC Wine Lover's Cookbook. We are huge fans of Jennifer's work and love her focus on the food, farm and drink community of the Okanagan and British Columbia. You can purchase The BC Wine Lover's Cookbook from our tasting room or on our website. To visit Jennifer's site and learn more, go here.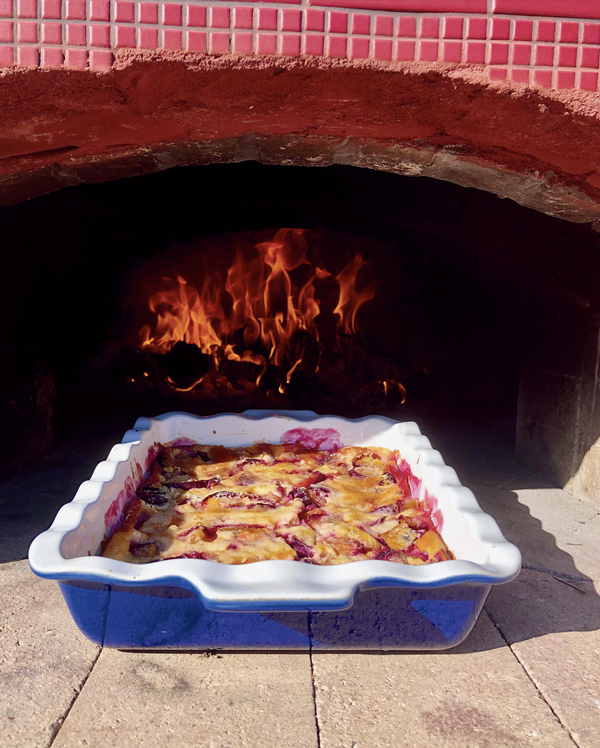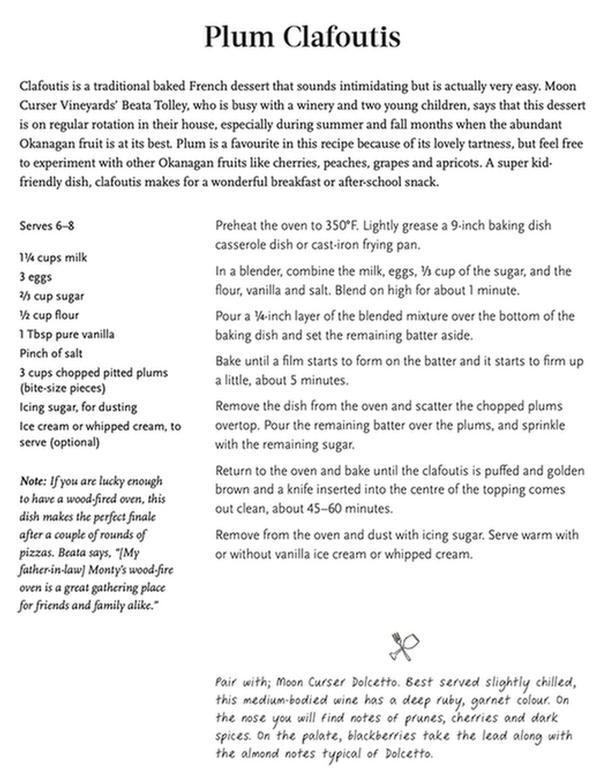 We're back at it again with a second playlist.....
Moon Curser Music Mix #2 - Spotify playlist by Beata Tolley. Note: you need a (free) Spotify account to listen.
and if you missed our first playlist:
Moon Curser Music Mix #1 - Spotify playlist by Beata Tolley
What makes these playlists Moon Curser-y, you say...? there's definitely a theme, and you will not have much trouble spotting it once you glance at the titles. If you don't quite know the history behind our winery name, the playlists should provide many a clue along with an eclectic selection of what we hope will become your favourites.
And if you're still not sure after listening: here's the whole tale of the Moon Curser name: About Moon Curser's name.
We're always working on adding to the playlists; suggestions are great if anyone's so inclined. Email them to gold@mooncurser.com.

"Have your plans for the continent by Dreamliner morphed into the Interior by SUV? No worries, we've got you covered with a vinous road map, to lead you to the local bottles that take their cues from the best of the Old World.
...
Italy
You're Wanting: Piedmont
You're Getting: Moon Curser Arneis 2019, $23
Nebbiolo is off the table, but the great white grape of the land of Barolo sings with firm peach and mineral notes in the hands of Osoyoos's Moon Curser. And it's a sight cheaper than Italy, too.
mooncurser.com
..."
To read full article click here


Interview with Chris Tolley – Co-Owner/Winemaker at Moon Curser starts at approximately ~39:58
To listen to this episode click here.
---
"At the end of the competition, the winery walked away with several medals led by a Platinum for its remarkable ode to the Douro Valley, the 2017 Touriga Nacional. They followed that up with six gold medals for a 2015 Tannat, think Uruguay; 2018 Dolcetto, that's Italy; a 2017 Malbec, that's Argentina; a 2017 Tempranillo, a nod to Spain; a 2017 Petit Verdot a classic from Bordeaux; and one final gold for a 2017 Dead of Night, a blend of Syrah and Tannat.
"Well, you get the picture, this is one very different producer, and in many ways, a poster child for what we always hoped would be the kind of innovative, family estate winery that would grab the title of the Best Performing Small Winery in Canada.
All that is left for you to do is try the wine and eventually visit the winery to experience what the Tolleys did when they first got into the business, something new and intriguing and most of all different."
Anthony Gismondi – Co-Head Judge
Moon Curser's Medal Winning Wines
Platinum:
Moon Curser 2017 Touriga Nacional, Okanagan Valley, British Columbia
Gold:
Moon Curser 2015 Tannat, Okanagan Valley, British Columbia
Moon Curser 2018 Dolcetto, Okanagan Valley, British Columbia
Moon Curser 2017 Malbec, Okanagan Valley, British Columbia
Moon Curser 2017 Dead of Night, Okanagan Valley, British Columbia
Moon Curser 2017 Tempranillo, Okanagan Valley, British Columbia
Moon Curser 2017 Petit Verdot, Okanagan Valley, British Columbia
Silver:
Moon Curser 2017 Carmenere, Okanagan Valley, British Columbia
Moon Curser 2018 Arneis, Okanagan Valley, British Columbia
Bronze:
Moon Curser 2017 Syrah, Okanagan Valley, British Columbia
Moon Curser 2018 Afraid of the Dark, Okanagan Valley, British Columbia
In 2006 they opened the doors to Moon Curser..except, at the time it was called Twisted Tree.
Rebranding brought the name Moon Curser.
The location has always been the same..very close to being the last winery in BC..right at the USA border.
I had already done an interview with Chris when the awards were handed out..so here's the update from Chris and the whole interview before they won the award.
Congratulations to Chris and Beata Tolley
Moon Curser Wines
https://www.winealign.com/awards/2019/07/31/2019-nwac-results"

"The moon enchants most of us when it's lit up. So why is a winery in Osoyoos called Moon Curser?
To find out, I travelled to the very southern part of the Okanagan, one kilometer east of Osoyoos. Inside the Moon Curser Vineyard tasting room, I met their sommelier, Sarah Glazebrook.
"Moon Curser is a smuggler, and because we're a border town and we used to have a gold mine up in the hills." she began. "The Americans would come across to mine the gold and instead of heading into town to pay the tariff they would wait till night and then sneak back. But if the moon was full, they would get caught by the border guards cursing the moon. So we tied that into our labeling, the heritage of Osoyoos so all our bottles depict smuggling."
Despite the bizarre name, Moon Curser is one of my favourite destinations in the southern Okanagan. It's another one of those charming family wineries with its hospitable staff and the gorgeous view overlooking the vineyards, Osoyoos Lake, and the sleepy desert town.
And their wines equal or surpass these positive traits. In 2019, it was awarded the Best Performing Small Winery at the National Wine Awards of Canada.
For $6, you can taste five wines from their dozen-plus inventory. Buy a bottle at the end of the tasting, and the fee is waived.
Beginning with the whites, be sure to try the 2019 Arneis ($22.99). If you've never heard of it, it's because Moon Curser is the only winery in Canada to have it. Originally from Piedmont, Italy, Glazebrook describes it as "A super refreshing white. Really crisp with bright acidity. I get green apples and lemon peel. Super nice on a hot day."
I love Rhone style whites, and the Moon Curser Afraid of the Dark ($20.99) with its citrus and stone fruit personality is a favourite! "A Viognier dominated blend, there's also Rousanne and Marsanne in there. Expect a richer, more medium bodied white, really nice for food pairing," says Glazebrook.
MoonCurser is known for its reds and there are a dozen of them to choose from. Many of them are seldom produced in BC. If you are tired of the "same old"
varieties, you have lots of adventure ahead of you. If you want a juicy unoaked red that's perfect for spring and summer chilled, there's the 2019 Dolcetto ($24.99).
For lovers of Spanish wine, Moon Curser produces the 2018 Tempranillo ($30.99) and there's the Touriga Nacional ($39.99) if you fancy the Okanagan's version of Portugal's best grape variety.
One of my favourite reds, however, is the 2018 Border Vines ($25.99), a delicious blend of five traditional Bordeaux grape varieties, with Cabernet Sauvignon being the most prominent component, along with Malbec, Petit Verdot, Carménère and Cabernet Franc. Moon Curser's website claims it has, "Great depth, intensity of flavour and structure." And I would add it is delicious, round, and a bargain for the quality!
While you wait for the Moon Curser tasting room in Osoyoos to open up in the next month or so, you can order mixed cases of any six wines with free shipping. And $10 of each case goes to the BC Food Bank and the Osoyoos Food Bank. Do yourself a wine favour and help others at the same time. Check out http://www.mooncurser.com/"
To view full article click here

Boulevard du Pacifique
"Dans sa chronique des vins de la Colombie-Britannique, Louise-Marie Lessard fait le point sur l'impact de la COVID-19 sur l'industrie du vin, les vignerons et le tourisme oenologique. Elle est discute avec Chris Tolley, propriétaire du domaine Mooncurser à Osoyoos et présente deux vins de cette propriété viticole."
pour écouter cliquez ici.