News
...here are a few reports and unconfirmed rumours from various sources. Some credible, others,... well.
---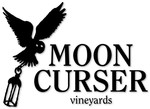 MOON CURSER VINEYARDS NAMED BEST PERFORMING SMALL WINERY AT THE 2019 WINEALIGN NATIONAL WINE AWARDS OF CANADA
For Immediate Release
Osoyoos, BC, August 1, 2019
Moon Curser Vineyards, a family-owned winery located on the East Bench in Osoyoos, BC, is pleased to announce that it has been named Best Performing Small Winery at the 2019 WineAlign National Wine Awards of Canada and also ranked second overall in the Top 25 Wineries in Canada.
The WineAlign National Wine Awards of Canada is regarded as the most prestigious wine competition in Canada. Led by Co-Founders Anthony Gismondi and David Lawrason, a team of leading sommeliers and wine writers had the daunting task of whittling down 1,815 entries, from 259 different wineries in eight provinces, to an elite few. Moon Curser Vineyards received an astounding 11 medals in the competition, including Platinum for its 2017 Touriga Nacional. Moon Curser Vineyards topped the standings for any winery producing fewer than 10,000 cases annually, and ranked second overall for all wineries in Canada.

"We are absolutely delighted," remarked Co-owner Beata Tolley. "Moon Curser has been a labour of love for us for over 15 years now, and this award is a testament not only to the skill and dedication of our vineyard and winemaking teams, but also to the exceptional growth and development of the South Okanagan as a wine growing region."
Moon Curser Vineyards was established in 2004 with a focus on making premium wines from established old-world grape varieties not commonly encountered in British Columbia. Chris Tolley, Co-owner and Winemaker, views the location of Moon Curser vineyards as an integral part of his success in the cellar. "We believed that growing interesting world-class grapes like Touriga Nacional, Arneis or Tannat would be possible on the Osoyoos East Bench where the influence of the heat, sun and lake all combine to deliver fantastic growing conditions for these grapes. We still do, now more than ever."
Moon Curser Vineyards received the following honours at the 2019 WineAlign National Wine Awards of Canada:
Best Performing Small Winery
Second Overall – Top 25 Wineries in Canada
Platinum Medal 2017 Touriga Nacional
Gold Medal 2015 Tannat
Gold Medal 2017 Dead of Night
Gold Medal 2018 Dolcetto
Gold Medal 2017 Malbec
Gold Medal 2017 Tempranillo
Gold Medal 2017 Petit Verdot
Silver Medal 2017 Carménère
Silver Medal 2018 Arneis
Bronze Medal 2017 Syrah
Bronze Medal 2018 Afraid of the Dark
To view the 2019 WineAlign National Wine Awards of Canada Best Performing Small Winery announcement, click here. For more information on Moon Curser Vineyards and its award-winning wines, visit MoonCurser.com and be sure to follow on Facebook, Instagram and Twitter for regular updates.
Images Available. Please click here to view the Media Kit and Image Gallery.
ABOUT MOON CURSER VINEYARDS
Moon Curser Vineyards is a small, family owned winery on the East Bench of Osoyoos, a South Okanagan border town known for its hot summers, beautiful lake and vineyards. Moon Curser has been in operation since 2004, when Chris and Beata Tolley purchased an old orchard in need of replanting, and set about converting it into what is now the Moon Curser Home Vineyard block, winery and tasting room.
The Moon Curser name pays tribute to the gold smuggling history of Osoyoos. The Moon Curser wines, however, break from tradition – the winery's focus has always been on making premium wines from old-world grape varieties not previously planted in the Okanagan such as Tannat, Dolcetto and Touriga Nacional. These varieties have not historically been a part of the South Okanagan viticulture, but thrive in the distinctive terroir of the Osoyoos East Bench and continue to deliver unique, world class interpretations of these wines. Moon Curser wines have earned many a gold medal from Canadian and international wine competitions.
MEDIA CONTACTS:
Chris Tolley (Co-owner/Winemaking); Beata Tolley (Co-owner/Operations)
gold@mooncurser.com
250.495.5161
SUGGESTED TWEET
Congratulations to @MoonCurser on being named the 2019 @WineAlign National Wine Awards of Canada Best Performing Small Winery (insert link to WineAlign page). #NWAC19 #BCWine